Pyengana Dairy to Tasfoods Ltd
Divest Merge Acquire advised the owners of Pyengana Dairy in their successful sale to Tasfoods Ltd.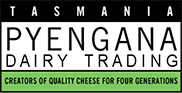 Location: Tasmania
Responses: 50
Tasfoods Ltd owns and markets premier Tasmanian food brands. Pyengana Dairy, with its 130-year heritage of award-winning cheddar cheeses, was a natural addition to Tasfoods' stable.
The transaction brought the typical challenges of a family-owned private company being acquired by a sophisticated corporate player. Thorough due diligence by Tasfoods' team cleared the way for a successful outcome, allowing the owners, Lyndall & Jon Healey, to achieve their own goals while creating growth opportunities for the business, its staff and other stakeholders.
Pyengana Dairy makes premium award-winning, traditional cheeses in Pyengana, north-east Tasmania. Pyengana supplies cheese to the retail and food service industries throughout Australia. In addition to the 12 varieties of cheese, Pyengana also produce milk and operate an on-site café.
www.pyenganadairy.com.au
TasFoods Ltd is an ASX listed company and has strong connections across the agriculture and food industries. TasFoods is building a stable of high value food brands which include Meander Valley Dairy, Nichols Poultry, Robur Farm Dairy, Shima Wasabi and now Pyengana Dairy.
www.tasfoods.com.au
Tony and the entire DMA team were professional, efficient, patient and outstanding communicators in our complex sale transaction. If we could rate them higher than 10/10, we would!
Lyndall & Jon Healey, Pyengana Dairy Trading
Find out how we can help you sell your business.
ASK NOW!